Random Acts of Creativity
Every old day is an inspiration here in the Catskills. We're an interconnected web of artists, thinkers and doers.
Yesterday was just a regular old work day for me. I took a short break from putting together a real estate ad for a local magazine and popped over to Facebook. The six inches of Facebook feed I looked at was full of the same sort of things it's always full of. Posts from friends and acquaintances in the area about what they were up to today. It was just Friday. It was nothing short of amazing. AMAZING. I want to share with you what I saw because, if you don't live here already, a glimpse at my Facebook feed might just help you understand why this is such a special place.
Comfort: The Essential Ingredient by Barbara Mansfield
My friend Babs wrote this gorgeous essay. It's a little bit about the challenges and rewards of living here and choosing quality of life over quantity of income and a little bit about the comfort we can all provide one another through so many different avenues. It's lovely, this is NOT a food blog - but there's a recipe.
Woodstock's Ars Choralis To Perform In Off-Broadway Play
Another friend is a member of Ars Choralis, Woodstock's all volunteer choral group is celebrating it's 50th anniversary this year. They've been invited to perform in the David Greig play "The Events" off-broadway. Each night a different community chorus group will perform with the cast. Ars Choralis has been giving wonderful concerts in the area for half a decade. It's wonderful that all these people are willing to give their time to create art and community through music. Check out the full article and performance details here.
Spiced Squash Snack Cake
This one IS a food blog. Cookbook author Rebecca Miller Ffrench can often be found at local charity events helping out with her insanely good baked treats. Food bloggers always amaze me. They give away their recipes for free! The best part about Rebecca's blog is that you not only get some amazing recipes but you get a taste of a family life well-lived in the mountains.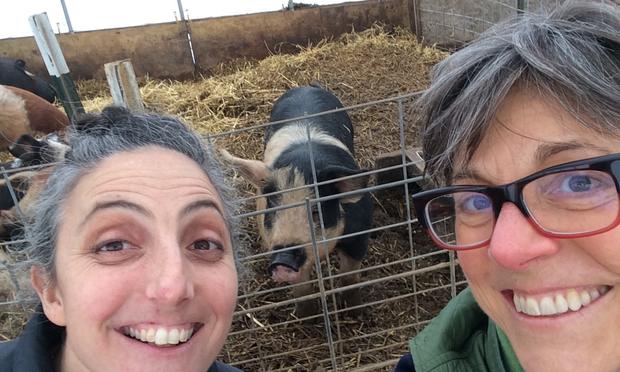 How to Get Your Hoof in the Door and Other Farm Business Marketing Tips
The slow food and locavore movements have brought so much farming back to the area. There are two challenges to becoming a farmer in the Hudson Valley. One, the farming! If you weren't born and raised farming exactly what you plan to raise, learning the ropes takes some time. Two, creatively marketing your product. This is often a farmer's biggest obstacle. The farmers at Raven & Boar did an interview with WNYC that might be some help with the marketing.
Woodstock Writers Radio is awesome. I love hearing artists discuss their process and work. There's a show every week. Thanks to Martha Frankel and Woodstock Writers Festival for giving us a weekly dose of literature.
We have a special relationship with Stone Ridge's Wired Gallery. They have their own gallery space, but they also use our Stone Ridge office as a second gallery space. Right now there's a show of diverse paintings by Scott Cronin. One of his paintings popped up on my feed totally by chance. As I said, interconnected.
The Trojan Woman - SUNY New Paltz
Another young friend who I directed in several plays a few years back, and who is one of the most hard working, passionate young women I've ever met is assistant directing SUNY New Paltz's production of The Trojan Woman.
All this creativity from one little facebook feed snapshot. Yes, each of these things is just what someone is doing today. But put a few of them together and you've got a seething nebula of creativity. That's what it's like being a part of this community. Don't you want to join?
Explore Upstate Communities
Coldwell Banker Village Green Realty